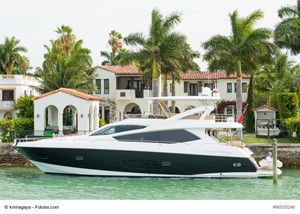 If you intend to pursue a Florida luxury house, it helps to prepare accordingly. That way, you can identify and address any potential pitfalls that otherwise may prevent you from acquiring your ideal Sunshine State luxury residence.
Ultimately, there are several important steps to follow to acquire a Florida luxury house, and these are:
1. Connect with a Florida Real Estate Agent
Regardless of whether you're searching for a luxury home that is just minutes from Disney World or a luxury house in South Beach, it pays to hire a real estate agent. In fact, a real estate agent will make it simple for you to streamline your Sunshine State luxury house search.
A real estate agent understands that no two Florida luxury homebuyers are exactly alike. As such, this housing market professional will learn about you and your luxury homebuying goals and help you tailor your home search accordingly.
Of course, it helps to hire a real estate agent with Florida luxury housing market experience too. With this real estate agent at your side, you can minimize the risk of problems as you proceed along the Sunshine State luxury homebuying journey.
2. Browse Luxury Houses
Once you hire a real estate agent, you can start checking out Florida luxury houses in the cities and towns of your choice.
Keep in mind both your immediate and long-term plans as you pursue Sunshine State luxury residences.
For instance, if you want a Florida luxury home near the Salvador Dali Museum, you should check out luxury residences in and around St. Petersburg. Or, if you can't get enough Florida Gators football, it may be best to pursue luxury houses in Gainesville, aka the heart of Gators country.
3. Submit an Offer
If you find a Florida luxury home that you want to buy, don't hesitate to make an offer. Because the longer that you wait to submit a proposal, the more likely it becomes that a rival homebuyer will swoop in and acquire your dream house.
Before you submit an offer, it helps to consult with your real estate agent. This housing market professional knows the ins and outs of what it takes to get an instant "Yes" from a seller. Therefore, he or she can offer expert recommendations about how to submit a competitive offer from the get-go.
If you receive a "Yes" from a seller, you likely will need to complete a home inspection, obtain a mortgage and perform myriad other tasks before you finalize your purchase agreement.
Conversely, if you receive a "No" from a seller, there is no need to worry. In this scenario, it is important to remember that plenty of luxury houses are available in Miami, Tampa Bay and other cities and towns across the Sunshine State. Therefore, you can reenter the luxury housing market and should have no trouble finding your ideal luxury house in the near future.
Follow the aforementioned steps closely, and you can quickly and effortlessly navigate the Florida luxury homebuying process.